We may have found a new favourite winter getaway. Nestled in the heart of Kananaskis,  Delta Hotels by Marriot Kananaskis Lodge is the perfect place to bring a young family.  It's less then hour from Calgary, doesn't have the crowds we dread,  and it's only minutes to Nakiska Ski Resort, all making it an ideal location for a weekend away.
It's a resort that appeals to young families for so many reasons. Some of our favourite parts of the weekend included-
Open fire and a complimentary s'more station outside in the lightly falling snow (magical!)
A large indoor playground with a full playhouse, lego, giant floor "iPad" with interactive games, play kitchens, chalk wall, craft room and movie screen for their special family movie nights.
Complimentary Hot Chocolate in the lobby, served in to-go cups that you can enjoy as you walk around the trails surrounding the resort.
Skating on the pond outside in the middle of the resort. There's even skate rentals available on site.
A inside-outside hot tub and a wooden sauna outside the pool doors. The indoor pool was the largest we've seen at a hotel- lots of room for multiple families and heated enough that parents will actually get in 🙂
The kids buffet in the main resturant, Forte.  Actually, I think the set-up is genius. Adults order off a menu while kids can help themselves to never ending kid-friendly food (including crowd favourites and lots of healthy options).  No long wait for food =no whining. They even had multiple included desserts. And bonus, kids under 6 eat free at the Delta.
The service throughout the resort was extremely good. Probably the best part of our trip. The server took the time to learn the girls names at dinner, the house-keeping made "towel art" and left a friendly welcome note, and  the check in staff were friendly and  helpful. Even the pool attendant brought us out towels with a smile. Sometimes it's the little things that make a hotel feel like home.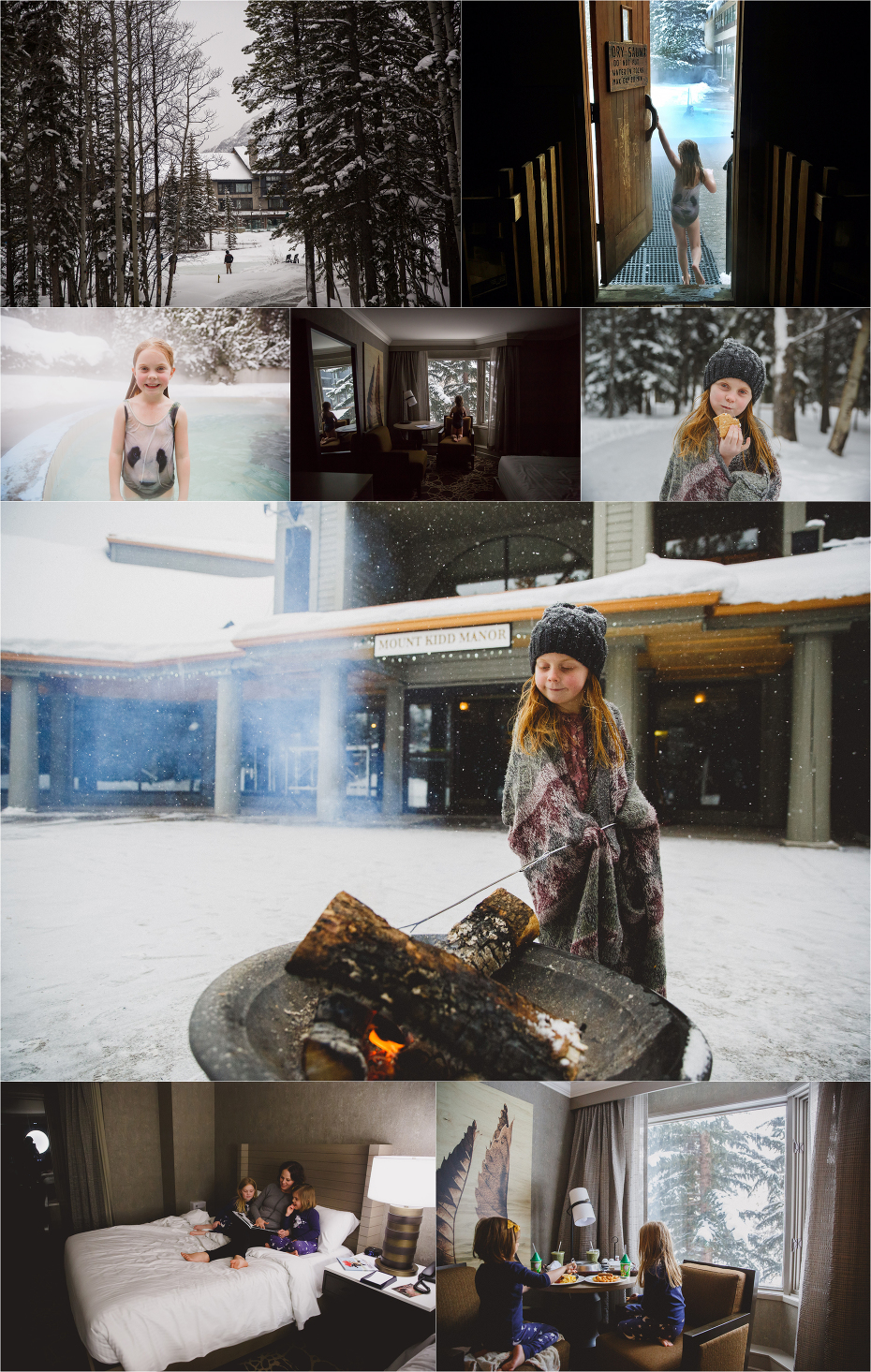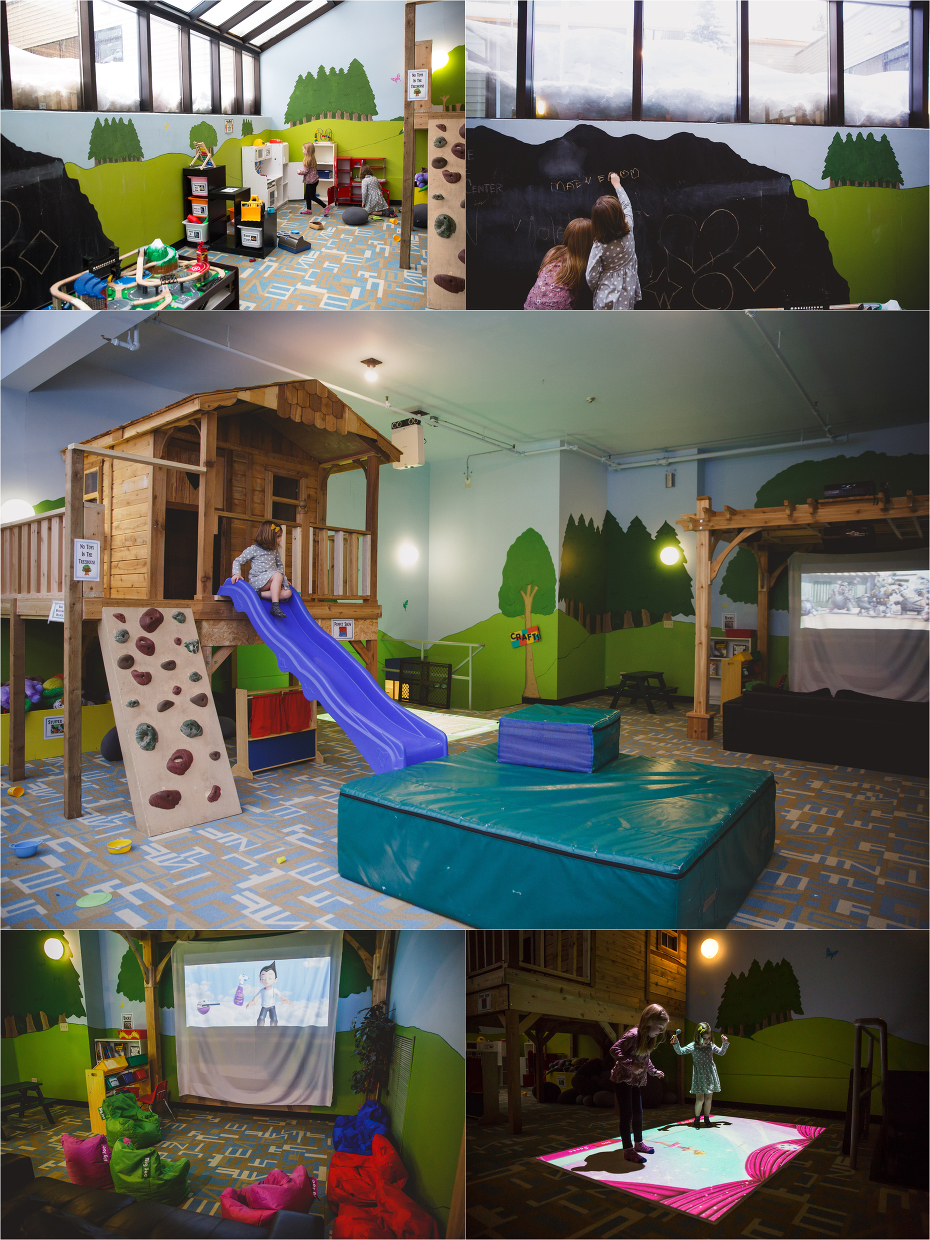 The resort itself is minutes away from Nakiska Ski Resort. For Tim, that little bonus was priceless. Usually we are up early making the trek to the ski hill- but here it's less then 5 minutes to the lift.  The hill is perfect for young families- there were so many green runs my daughters could do.  There's even a tube park with friendly lifties ready to give you a "super spin" or a push down the hill.  Maeve loved the tube park- I think she was excited for a activity she could do that required no balance and lots of high speeds down the hill. Overall, we were really impressed with Nakiska and will definitely ski it more often now that we've tried it out. And if you're not a skier, definitely try out the Tube Park, it's so much fun (and the magic carpet lift is perfect those of us who get exhausted going up and down the toboggan hill with kids).
If you don't make it to the ski hill,  there's a ton of exploring around the resort with multiple hiking trails close by.  The weekend we stayed there were several events posted for families to take part in- guided hikes to Troll Falls, nature walks, yoga, free crafting workshops,  a family games night, and a family movie night on a big screen. The staff can also point you in the right direction for snow shoe rentals to use close by and skate rentals to on-site. Overall, you won't be bored. The scenery is enough to get me out to Kananaskis alone- the location of the resort can't be beat.  I think a minimum of two nights would be ideal to truly explore the area and take in all that The Delta Lodge at Kananaskis offers.
Look forward to-
Kids under 6 eat for free at the Lodge.  The  promotion doesn't include room service but kid meals were only $7 delivered, and had huge portions. It was a really fun splurge for the girls to get room service before a long day at the ski hill. They're still talking about it.
But be Prepared for-
It is no secret that this hotel is undergoing renovations. While we found it didn't disrupt our stay, the check-in is not in the main lobby and there are areas of the resort off limits.   Be aware that not every room has been renovated and some rooms are still dated.  The hotel should be completed by summer, however check ahead of time to make sure that the renovations aren't going to distrupt your vacation plans.  I'm excited to see the new pool area which has plans to have a nordic feel (we also hear they will even include watersides and kids water features). I'm looking forward to visiting again this summer and trying out everything the hotel has to offer in the summer.
Our Insider Tips-
This resort can be purchased with Airmiles- it's a great way to use extra miles and have a mountain getaway for only the $25 in taxes.